This version of eHour is no longer maintained and is replaced by eHour 2.
Discover the improvements and new features. Click here.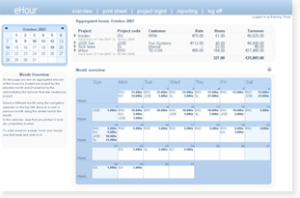 Features
eHour is an open source time tracking tool for companies and organizations who need accurate information on how much time is spent on projects by their people

The primary objective is to keep time tracking as simple and user friendly as possible while still being very effective at measuring and reporting the amount of time your team spends on a project.

The main features are:
create multiple projects per customer, assign multiple users to the same project
create default projects to which all users should be assigned (days off, sick leave, etc.) so you can keep track of those hours as well
extensive reporting
configurable localization and currency. eHour is available in English, Dutch, French, Italian, German (partial) and Polish (partial).
separation of user, project manager, reporting, manager and administration role.
ability to lock timesheets
excel export of all your reports
automatic reminders by email
webbased user interface, no software needs to be installed on desktop machines
on-premise install, you keep full control over your data

YourKit supports eHour with its full-featured Java Profiler.
YourKit, LLC is the creator of YourKit Java Profiler and YourKit .NET Profiler, innovative and intelligent tools for profiling Java and .NET applications.